Nifty50 and Sensex rose by about 1 percent compared to the 1.02 percent rise seen in the S&P BSE Midcap, and the 2.4 percent rally in the S&P BSE Smallcap index in March.
March was a roller coaster month for investors but fund managers with schemes attributed towards small & midcaps space created fortunes. Around 50 percent of the Portfolio Management Schemes (PMSes) managed to beat Sensex in March and most of them were from the broader market space.
Of the 213 schemes PMSBazaar.com looked at, 153 (72 percent) generated positive returns in March. Five of the top 10 funds were from the multicap space, four from mid and small-cap space and one was a thematic fund.
Portfolio Management Services (PMS) cater to wealthy investors with portfolio sizes exceeding Rs 50 lakh. The professional fee structure is also different from a regular mutual fund (MF).
Nifty50 and Sensex rose by about 1 percent compared to the 1.02 percent rise seen in the S&P BSE Midcap, and the 2.4 percent rally in the S&P BSE Smallcap index in March.
Riding the momentum in the small & midcap space, the top five funds that outperformed the Nifty50 were from smallcap, midcap as well as multicap category.
Nine Rivers Capital Aurum Smallcap Opportunities was the top-performing scheme, rising 15.6 percent month-on-month (MoM). The smallcap fund, managed by Sandeep Daga and Vivek Ganguly, focuses on companies with a market capitalisation of less than Rs 3,500 crore and a low turnover.
Valentis Advisors Rising Star Opportunity (11.16 percent), Alchemy Ascent (8.2 percent), NJ Asset Management Bluechip (7.18 percent), Centrum PMS Micro (7.16 percent) were the other top performers in March.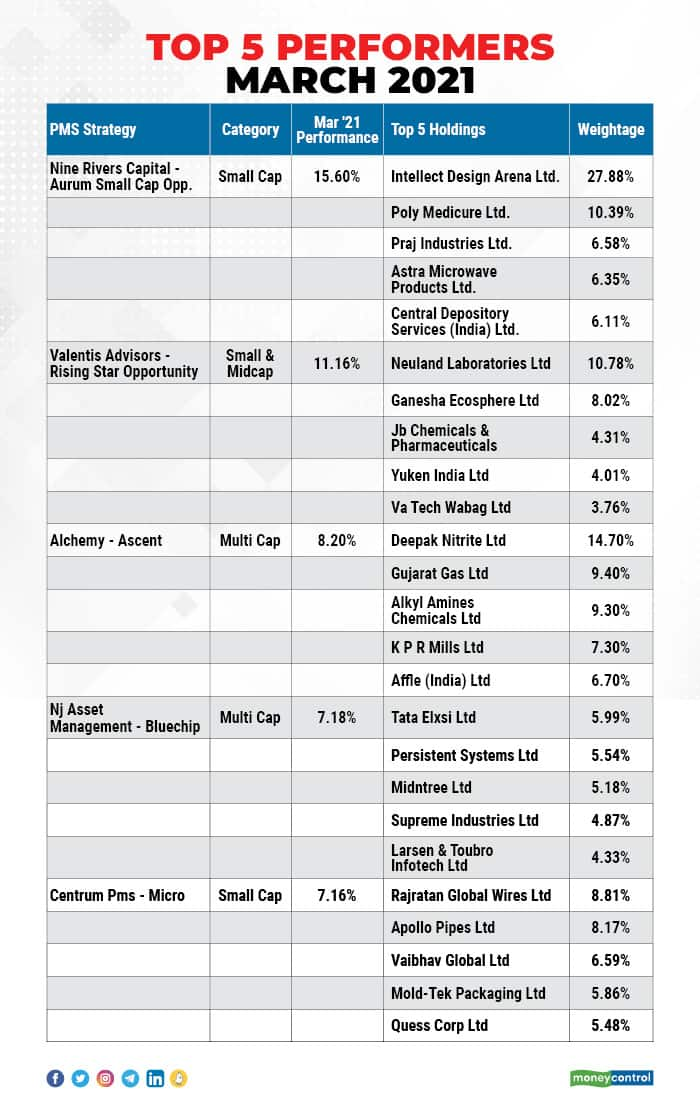 We have collated a list of funds that have declared their March stock holdings.
A close look at the top holdings of these funds can give investors some clue as to where the top fund managers are betting their money.
Note: The list should only be considered as a reference to shortlist stocks for individual portfolios and not as buy recommendations.
Top five holdings of Nine Rivers Capital include names like Intellect Design, Poly Medicure, Praj industries, Astra microwave, and Central Depository Services.
What should investors do?
The Nifty50 and Sensex might have rallied by about 70 percent in FY21 but small & midcap indices almost doubled in the same period. Experts feel that the wealth-creating opportunity is in the broader market space, and investors should use dips to get into quality mid & small-cap stocks.
Micro and macro data suggest that the economy is on a recovery path, huge government CAPEX, low-interest rates, attractive valuations as well as pent-up demand in various sectors are likely to act as a tailwind for the small & mid-cap companies."Mid & small-caps are actually coming out of a 3-year brutal bear market. Going forward, we expect the mid & small-caps to further catch up and outperform the largecap indices," Niraj Kumar, Chief Investment Officer, Future Generali India Life Insurance Co. Ltd told Moneycontrol."The mid & small-caps generally tend to perform well in an economic upcycle, wherein they tend to benefit disproportionately from operating and financial leverage. We believe that we are at the cusp of one such economic upcycle and that mid and small-cap companies will also partake in this recovery and perform well," he said.
The next big question is how one can select stocks in the broader market space. Well, the thumb rule is to pick the sectoral leaders and companies that have relatively less debt on the books compared to peers and also has a strong growth model.
Some experts compared the rally which was seen in FY 2020-21 with the rally that started prior to the 2014 general elections. That euphoric rally lasted for like 4 years and mid and small caps were real winners.
"This time too we think that mid and small-cap will outperform the markets. However, in the euphoria, don't forget the fundamentals of the company. Because it's only when the tide goes out that you learn who has been swimming naked," Divam Sharma, Co-founder at Green Portfolio told Moneycontrol.
"In our opinion, the largecap space will grow at a rate more or less representing the economic growth as we see them facing a mild saturation kind of a situation. However, selected mid and small-cap counters have room to grow disproportionately. We keep looking for companies with lesser debt and growth plans," he said.
Reference URL: https://www.moneycontrol.com/news/business/markets/where-are-the-ultra-rich-investing-over-20-stocks-from-top-5-pms-funds-outperformed-nifty-in-march-6774771.html